About this Performance
Composer Esa-Pekka Salonen's Wing on Wing celebrates our beloved Walt Disney Concert Hall and its talented architect, Frank Gehry. Follow the story of Salonen's quest to design his own music inspired by a building and its architect.
These 45-minute interactive Los Angeles Philharmonic concerts introduce young audiences to symphonic music. Before each concert, families are invited to participate in hands-on arts workshops.
This concert is recommended for children ages 5 to 11.
See other concerts in this series
Programs, artists, dates, prices, and availability subject to change.
Enhance Your Experience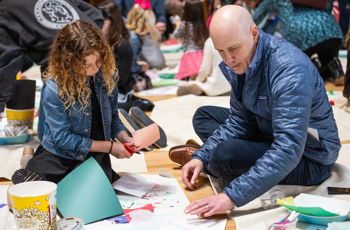 Come early for our popular Art Activations
Event starts at 10:00AM
Children and families enjoy self-guided art activities and fun for all ages throughout the space. Join us for a morning of musical celebration that will stay with children for a lifetime.