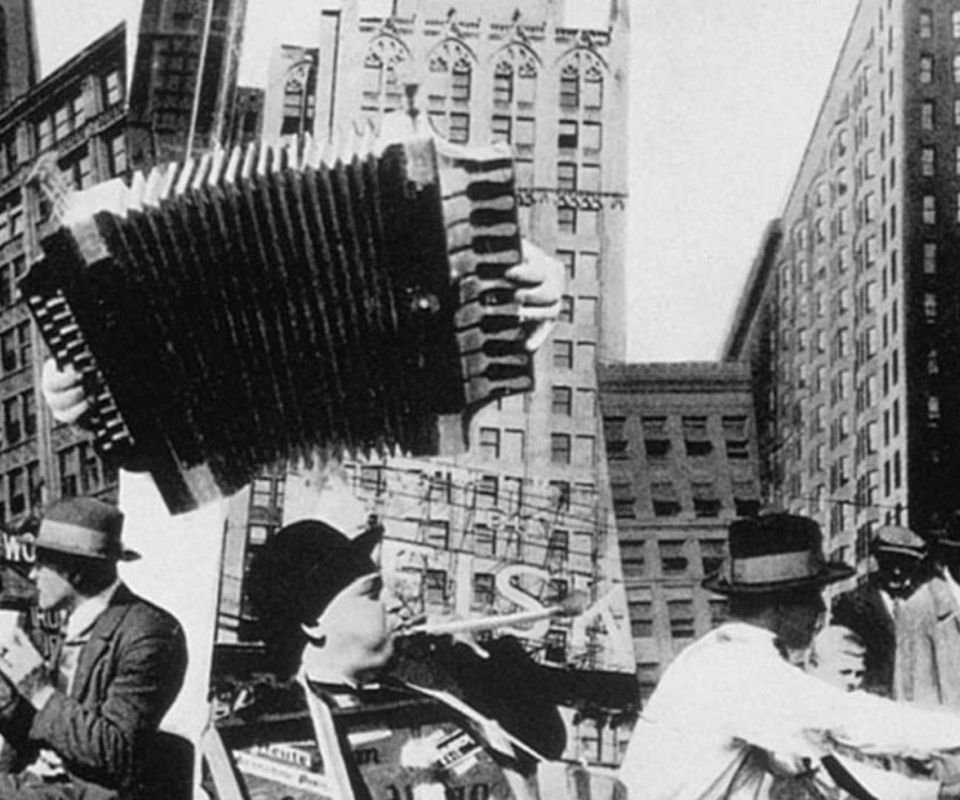 Cinema: Berlin and Beyond
Sat / Feb 29, 2020 - 12:00PM
Weimar themes in film—from the classic to the contemporary
RSVP CLOSED
Program
12PM–1PM Public Reception

1PM–5:15PM New Identities: Gender and Politics

Directed by Richard Oswald

Directed by Slatan Dudow & Bertolt Brecht

Directed by Alexander Kluge

Directed by Elsa Bergmann-Michel

Directed by Walter Ruttman

Lichtspiel Opus III (1924)

Ghosts before Breakfast (1928)

Directed by Walter Ruttman

7PM–8PM Dinner Break and Book Signing with Thomas Gladysz

8PM-10PM Ticketed Screening of Pandora's Box
Artists
Alexander Kluge

, director

Oliver Laric

, director
About this Performance
Situated between the end of World War I and Hitler's assumption of power, the Weimar Republic (1919-1933) was an era characterized by extreme contrasts. Germany's first democracy thrived as a laboratory for unprecedented cultural achievement and social freedoms while suffering from the aftermath of war, political unrest, massive inflation, and economic hardship. At the same time that people enjoyed new-found liberties, their daily realities remained deeply burdened by poverty and economic crisis.
Spend the day and night in the 1922 Egyptian Theater with screenings of classic Weimar films, pioneering early abstract cinema, and films by acclaimed contemporary artists exploring the themes of formal experimentation, queer identities, and sociopolitical issues that continue to resonate today.
Live musical accompaniment to the New Identities and Experimentation/Abstraction programs will be provided by Michael Mortilla. Pandora's Box will be accompanied by pianist / composer Cathlene Pineda, trumpeter Stephanie Richards, and guitarist Jeff Parker. And author Thomas Gladysz will be on hand to sign copies of his book, Louise Brooks, the Persistent Star.
RSVP is not a guarantee of admission. Seating is first come, first served to RSVP holders after doors open at noon. There will be a standby line when the theatre is at capacity. Between films, guests will be admitted as seats become available. Tickets are still available for purchase to the 8PM Pandora's Box screening.
The "New Identities: Gender and Politics" program is co-presented by Outfest. The "Experimentation/Abstraction" program is co-presented by Los Angeles Filmforum and Pandora's Box is co-presented by the Art Deco Society of Los Angeles.
Programs, artists, dates, prices, and availability subject to change.
FEB 6–29 • 2 PROGRAMS, 12 EVENTS
The Weimar Republic
Germany 1918–1933
In the 1920s, Germany saw a remarkable cultural renaissance prior to the rise of Nazism. Intellectualism and modernism took root in the chaotic social and economic climate between world wars. The arts and sciences burst with imagination, queer identities were brought to the forefront, and the lines between high and low art were erased. Join in a wide-ranging look at this fascinating, turbulent time.
Max Beckmann, Paris Society, 1931. Oil on canvas, 43 x 69 1/8 inches (109.2 x 175.6 cm). Solomon R. Guggenheim Museum, New York. © 2019 Artists Rights Society (ARS), New York/VG Bild-Kunst, Bonn.