YOLA National Festival
JULY 23–AUG 3, 2022 • Empowering Youth, Building Community and Musical Excellence
2022 YOLA National Festival Applications are now closed.
The YOLA National Festival is back in-person this summer at YOLA's new home, the Beckmen YOLA Center.
An intensive summer orchestra festival with top-tier ensembles, the YOLA National Festival is for young musicians from Sistema-inspired programs and programs similarly invested in youth and community development through music.
Musicians will convene in Los Angeles from July 23-August 3, 2022 for 10 days of learning with the festival's amazing faculty, guest artists, and performances with world-renowned conductors. Participation is free—travel, lodging, meals, and programming are provided to musicians at no cost. The 2022 program will feature two ensembles: the Symphony Orchestra for musicians aged 14-18 and the Chamber Orchestra for musicians aged 12-14.
The festival's purpose is to connect civically-minded young musicians from diverse regions across the country. Bringing together this community who share a common interest of achieving musical excellence serves as the nexus for the progressive future of music education while modeling the future of orchestral ensembles.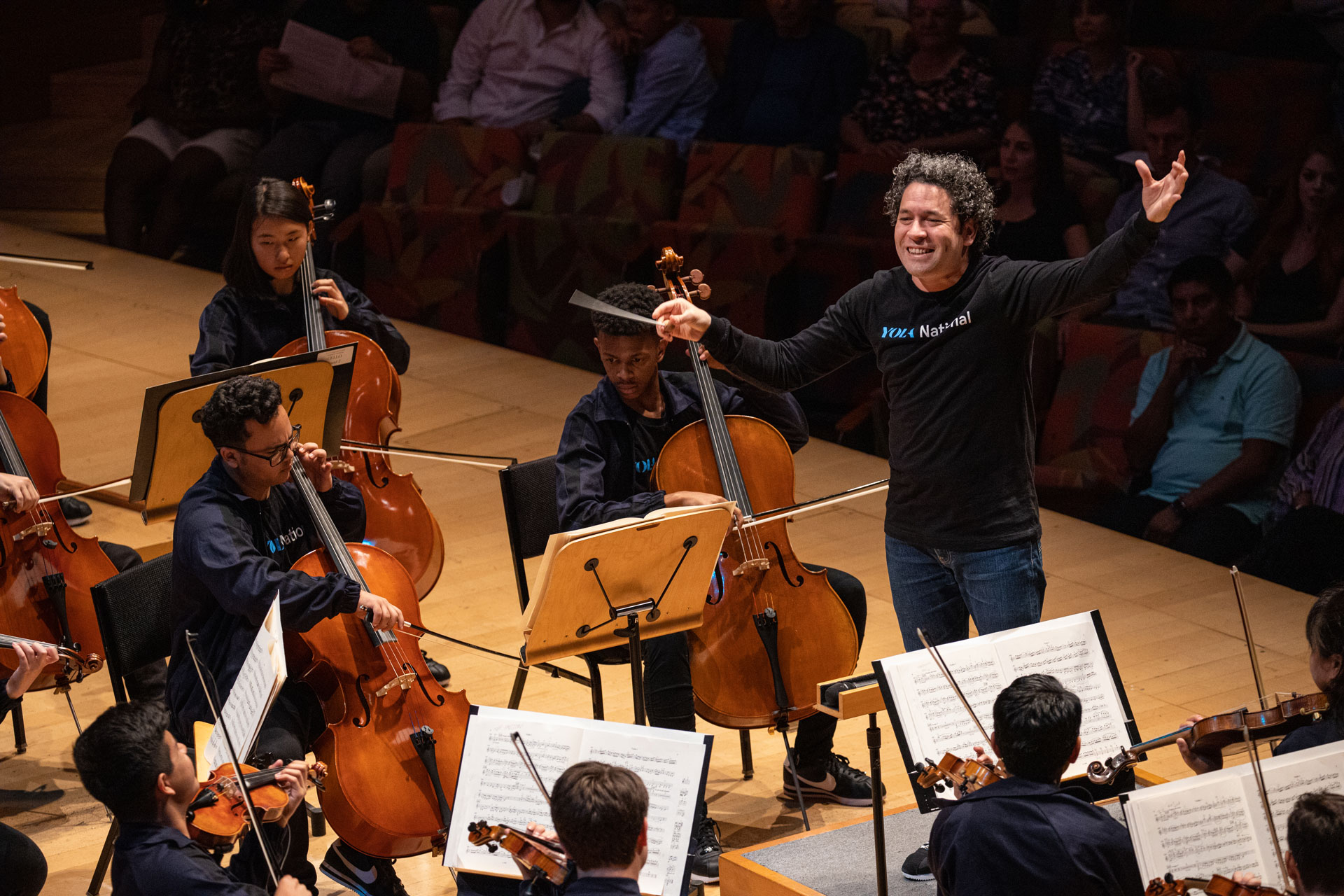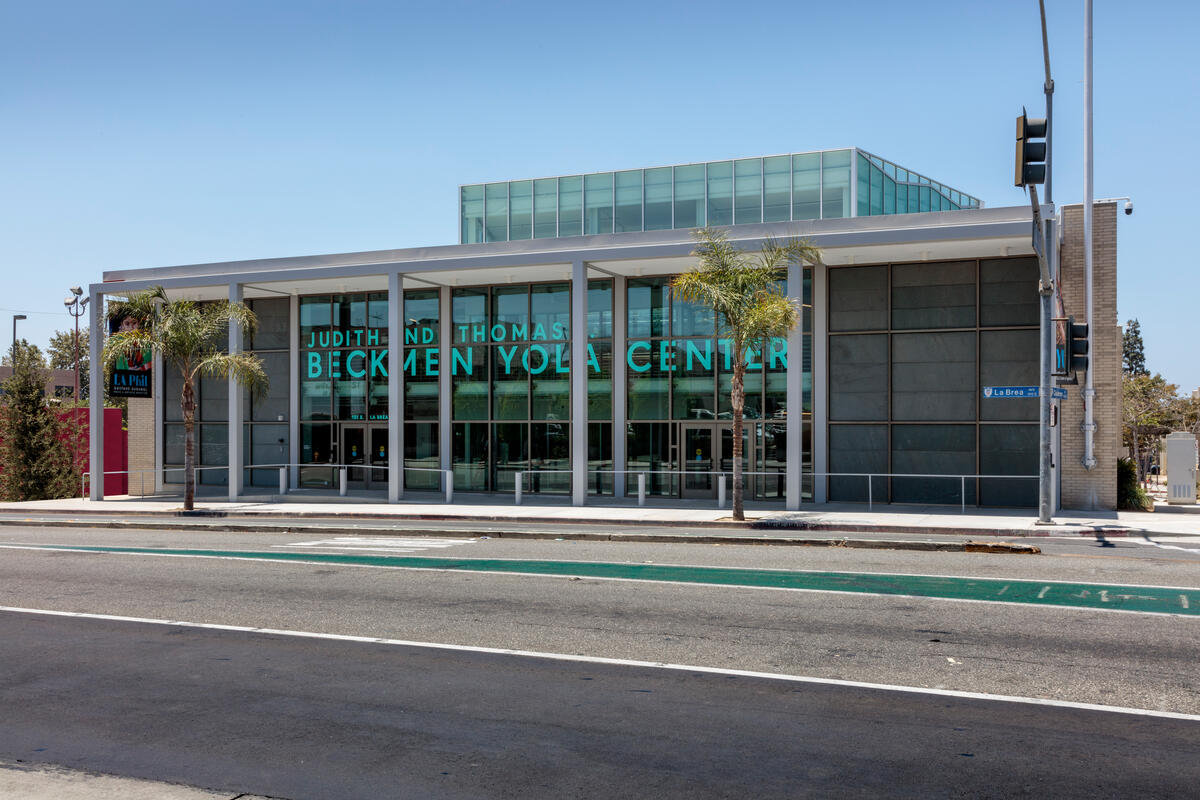 COVID-19 Update
Due to the ever-evolving COVID-19 pandemic's continued effects, the full program and offerings of the 2022 YOLA National Festival will be announced on April 1, alongside audition results. The health and safety of our young musicians are our highest priorities, and our decisions will be dependent on guidance from the California Department of Public Health, the LA County Department of Public Health, and the Centers for Disease Control and Prevention (CDC).
Please note, travel and in-person activities for the 2022 YOLA National Festival may be impacted by changes, orders or recommendations set forth by the California Department of Public Health, the LA County Department of Public Health and/or the CDC due to the severity of COVID-19 and/or any surge in cases or new variants. Any changes to the Festival schedule will be communicated ahead of time to all participants. The LA Phil reserves all rights to make changes to the Festival schedule and programming, and COVID-19 protocols at any time.
In accordance with the LA Phil's Vaccination Policy, all musicians, faculty, and staff participating in the YOLA National Festival will be required to be fully vaccinated. Fully vaccinated means two weeks have passed since receiving a second dose of the Pfizer or Moderna vaccine, or one dose of the Johnson and Johnson vaccine. Additionally, testing will be conducted at least once during the YOLA National Festival.
YOLA National Festival applicants are recommended to submit proof of vaccination and booster dose via the Accepted application platform, but proof of vaccination will be required by June 1, 2022. While exemptions to vaccination can be accepted, it is very rare for them to be approved and are evaluated on a case-by-case basis.
Proof of vaccination, and booster dose if eligible, will be required by June 1, 2022.
Application Information & Timeline
Your application involves these core components:
To begin: Create an account or log in to the Acceptd platform via the Apply Now link

Fill out the application which includes parent/guardian information, educational, and musical background

Upload your musical audition (2-3 excerpts and scales) and personal statement videos*

Submit a recommendation from a program manager or teacher

Upload the required consent forms
*Instrument specific excerpts and details about the personal statement are available on our Audition Requirements page.
All applications are submitted through the Acceptd platform:
Applications due FEB 15
Questions? yola@laphil.org
Once you have created your login on our application platform Acceptd, we suggest you download the application checklist linked in the Application Materials list below, begin practicing your required excerpts, and be sure to get support from a teaching artist or program manager for your musical audition and your personal statement.
Application Timeline
January 9: YNF Virtual Seminario
January 23: YNF Virtual Seminario
February 15: Applications close
February 21: Recommendation Due
April 1: Notification distributed to applicants / YOLA National Institute (YNI) applications open to select musicians of the YOLA National Symphony Orchestra
April 15: YOLA National Institute (YNI) Applications close
May 11: YNI Student Notification
July 23–August 3: YOLA National Festival


Eligibility Requirements
Young musicians applying for the YOLA National Festival must meet the program and age requirements in order to participate in the YOLA National Festival.
Program Requirements
All applicants must be enrolled in an El Sistema-inspired program, or a program that is similarly invested in youth development practices. While each program operates differently, there are basic tenets which this Festival aims to support.
For full details about program eligibility, please download our Eligibility PDF. If you have any questions about whether your music learning program meets eligibility requirements, please email us at YOLA@laphil.org.


Symphony Orchestra
High school musicians between the ages 14-18 can apply to the Symphony Orchestra. Excerpts for the Symphony Orchestra can be found on our Audition Requirements page. Applicants who are 14 years old and apply to the Symphony Orchestra will automatically be considered for the Chamber Orchestra.


Chamber Orchestra
Musicians aged 12-14 can apply to the Chamber Orchestra. Musicians who are 14 years old can either apply for the Symphony Orchestra to be considered for both Chamber and Symphony Orchestra or choose to apply only for the Chamber Orchestra. Excerpts for the Chamber Orchestra can be found on our Audition Requirements page. All applicants should only submit one application, with one set of excerpts.
Photo gallery of past YOLA National Festivals
Check out other YOLA National videos & hear from former students
Flute
Jennifer Grim, University of Miami, Associate Professor of Flute
Hilary Jones, Diller-Quaile School of Music, Faculty Member
Oboe
Geoffrey Johnson, Western Michigan University, Adjunct Oboe Professor
Andrés Mendoza, Weimar University, Music Faculty
Clarinet
Mariam Adam, Chineke Orchestra and Chamber Ensemble, Principal Clarinet; International Soloist and musician
Berginald Rash, American clarinetist, TEDx Speaker, and Co-Founder & Artistic Director of Vivre Musicale, Inc.
Bassoon
Kai Rocke, Minnesota Orchestra, Rosemary and David Good Fellow
Mateen Milan, Johns Hopkins Peabody Preparatory, Bassoon Faculty Member
French Horn
Elizabeth Linares, Sonarsix Sextet; YOLA at Torres, Teaching Artist
Corbin Castro, North Carolina Symphony, French Hornist
Trumpet
Herb Smith, Rochester Philharmonic
David Costello, Oakwood Brass - Outreach Project, YOLA at EXPO and Harmony Project Teaching Artist
Trombone
Burt Mason, Chamber Orchestra of New York, Principal Trombone, Metropolitan Opera Orchestra, Associate Musician, Juilliard Music Advancement Program, Trombone and Low Brass Instructor
Angel Subero, Berklee College of Music, Assistant Professor
Percussion
Ruben Hernandez, San Diego Youth Symphony, OPUS, Teaching Artist
Taylor Lents, Boston Music Project, Marketing and Communications Manager
Violin
Mariesther Alvarez, Boston String Academy, Director, Violin Faculty; Longy School of Music of Bard College, Teacher Education
Mellasenah Edwards, Baltimore School for the Arts, Music Department Head
Benjamin Hoffman, Redlands Symphony, Principal Second Violin; Kaleidoscope Chamber Orchestra
Francisco Diaz, El Sistema USA, Sunstate Orchestral Program
Lauren Rausch, John Hopkins Peabody Preparatory, Director, Young People's String Program & Coordinator, Tuned-In Program
Tiffany Rice, The Windsor School, Boston, MA, Director of Performing Arts and Music Faculty
Viola
Chris Jenkins, Oberlin Conservatory, Associate Dean and Liaison to the Office of Equity, Diversity, and Inclusion
Robin Faye-Massie, Musicians of Mercy, Executive Director
Cello
Alan Mautner, La Mirada Symphony, Music Director
Terrence Thornhill, Paterson Music Project, NJ, Teaching Artist; Northern New Jersey Youth Orchestra, Assistant Conductor
Bass
David Connor, Houston Symphony Orchestra - Community Embedded Musician
Chantal Incandela, Opera Theatre of St. Louis, Press & Communications Manager
More about YOLA National
For a full list of FAQ's, please see the FAQ document linked in the above Student Application Materials section. If you have any further questions, please email YOLA@laphil.org.