Program
Duke ELLINGTON (ARR. PERESS)

Duke ELLINGTON (ARR. GOULD)

"David Danced" from the Sacred Concerts (Chloé Arnold and Loren Smith)

"Ain't But the One" (Gene Noble, soloist)

"Tell Me It's the Truth" (Kyla Jade, soloist)

"Heaven" (Sy Smith, soloist)

"Something Bout Believing" (Aja Grant, soloist)

"My Love" (Aretha Scruggs, soloist)

"Ain't Nobody Nowhere without God" (Jamal Moore, soloist)

"The Majesty of God" (Ashley Támar, soloist)
Listen to this program's playlist on Spotify
About this Performance
In 1943, Duke Ellington premiered two works about the experience of Black Americans—one, Black, Brown, and Beige, traced their collective history and another, New World A-Coming, imagined a hopeful future. Ellington wrote about the latter in his biography, "I visualized this new world as a place in the distant future, where there would be no war, no greed, no categorization, no non-believers, where love was unconditional, and no pronoun was good enough for God."
Within the context of the orchestra, Ellington explored these themes, as well as his faith, in many forms, from sacred concerts to extended suites to tone poems. He brought the full range of his musical vocabulary to bear on his symphonic work, weaving spirituals, jazz, blues, and even West Indian dance music into his orchestrations. In two programs over four nights, Thomas Wilkins leads the Los Angeles Philharmonic in a weekend dedicated to the orchestral music of a great American composer.
See other concerts in this series
Programs, artists, dates, prices, and availability subject to change.
Enhance Your Experience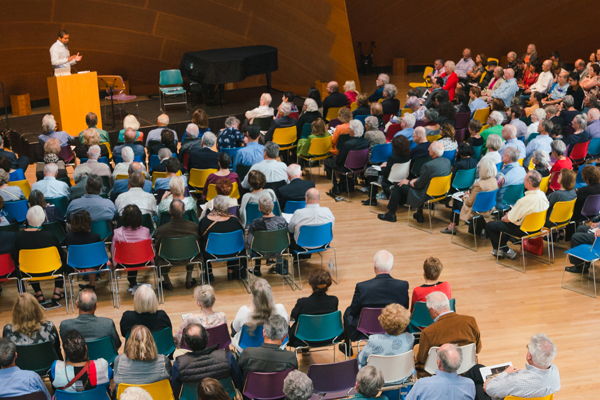 Upbeat Live with Patrick Posey
Event starts at 7:00PM
Before the concert, some of the sharpest musical minds around – including members of the LA Phil – guide you through the evening's music, complete with a Q&A session for any lingering questions. This free event is held in BP Hall, accessible after your ticket is scanned.
Learn More