About this Performance
One of the most beloved piano showpieces in the symphonic repertoire—one that has been used in too many films to list—Rachmaninoff's Piano Concerto No. 2 emerged from a terrible case of writer's block. After being depressed by his First Symphony's critical flop, the composer turned to hypnotherapy to break his internal logjam. What resulted was an outpouring of captivating melody, unfolding effortlessly with lush Romantic harmony, that earned breathless praise at its premiere. The brilliant Yuja Wang reveals the Second Concerto's emotional peaks and valleys when she joins Gustavo Dudamel and the LA Phil for an all-Rachmaninoff evening.
In the second half, Dudamel leads one of Rachmaninoff's most loved works that he wrote while living in the United States. Rachmaninoff's Symphonic Dances was the composer's final orchestral work and drew on his life's work with nods to sacred chants and his own earlier music while looking forward to the new harmonic language of the 20th century.
See other concerts in this series
Programs, artists, dates, prices, and availability subject to change.
Enhance Your Experience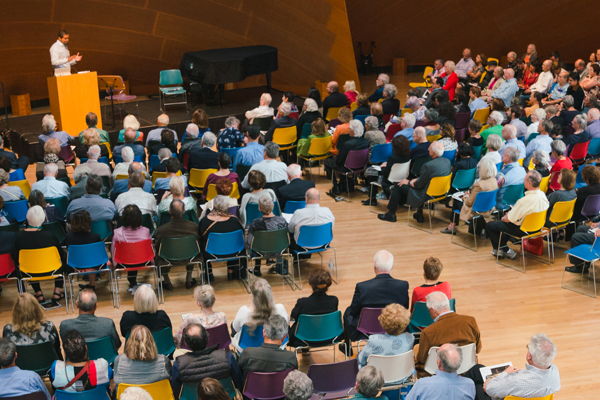 Upbeat Live with Thomas Neenan
Event starts at 7:00PM
Before the concert, some of the sharpest musical minds around – including members of the LA Phil – guide you through the evening's music, complete with a Q&A session for any lingering questions. This free event is held in BP Hall, accessible after your ticket is scanned.
Learn More