About this Performance
Yuja Wang told NPR that there is a quality to Rachmaninoff's Piano Concerto No. 3 that reminds her of the jazz piano of Art Tatum, where the pianist sits alone at a keyboard improvising on a single idea that grows into something amazingly complex. "I'm always amazed by improvisations because of how they turn around a motif and can [be] creative about how everything is connected," Wang said. "And that's how the piece is written: It's a huge work for 45 minutes, but everything is interconnected." Though it's often considered one of the most difficult concertos to perform, Wang showed herself more than capable of the challenges for the demanding Third when she recorded it in 2013: "She has virtuosity in spades and stamina to spare … Her finger work is not just proficient; it is superhuman." (Bachtrack)
"All my life, I have taken pleasure in the differing moods and music of gladly chiming and mournfully tolling bells," Rachmaninoff said. The Bells was inspired in large part by the poem of the same name by Edgar Allen Poe. Each movement evokes a different flavor of bells connected to life stages and the passing of time—from sleigh bells to wedding chimes to a mournful funereal peal. Dudamel leads the LA Phil and the Los Angeles Master Chorale in this gorgeous and haunting choral symphony.
See other concerts in this series
Programs, artists, dates, prices, and availability subject to change.
Enhance Your Experience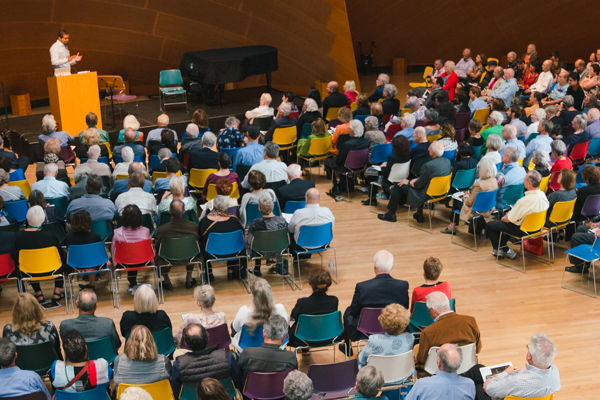 Upbeat Live with Kristi Brown-Montesano
Event starts at 7:00PM
Before the concert, some of the sharpest musical minds around – including members of the LA Phil – guide you through the evening's music, complete with a Q&A session for any lingering questions. This free event is held in BP Hall, accessible after your ticket is scanned.
Learn More