About this Performance
"Listening to his music, it's just the most sensuous and passionate thing. I don't know where he got it," Yuja Wang has said of Rachmaninoff. "Every time I play his music, it's a gift." In this finale to the Rachmaninoff Piano Concerto Cycle, Wang and Dudamel perform the rare Fourth. Still lush and full of Romantic melody, this concerto is rhythmically complex and makes the orchestra a more equal partner to the piano than in Rachmaninoff's other concertos.
"All my life, I have taken pleasure in the differing moods and music of gladly chiming and mournfully tolling bells," Rachmaninoff said. The Bells was inspired in large part by the poem of the same name by Edgar Allen Poe. Each movement evokes a different flavor of bells connected to life stages and the passing of time—from sleigh bells to wedding chimes to a mournful funereal peal. Dudamel leads the LA Phil and the Los Angeles Master Chorale in this gorgeous and haunting choral symphony.
See other concerts in this series
Programs, artists, dates, prices, and availability subject to change.
Enhance Your Experience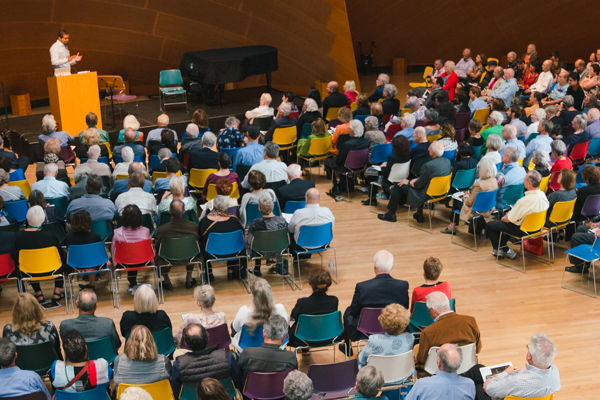 Upbeat Live with Kristi Brown-Montesano
Event starts at 1:00PM
Before the concert, some of the sharpest musical minds around – including members of the LA Phil – guide you through the evening's music, complete with a Q&A session for any lingering questions. This free event is held in BP Hall, accessible after your ticket is scanned.
Learn More